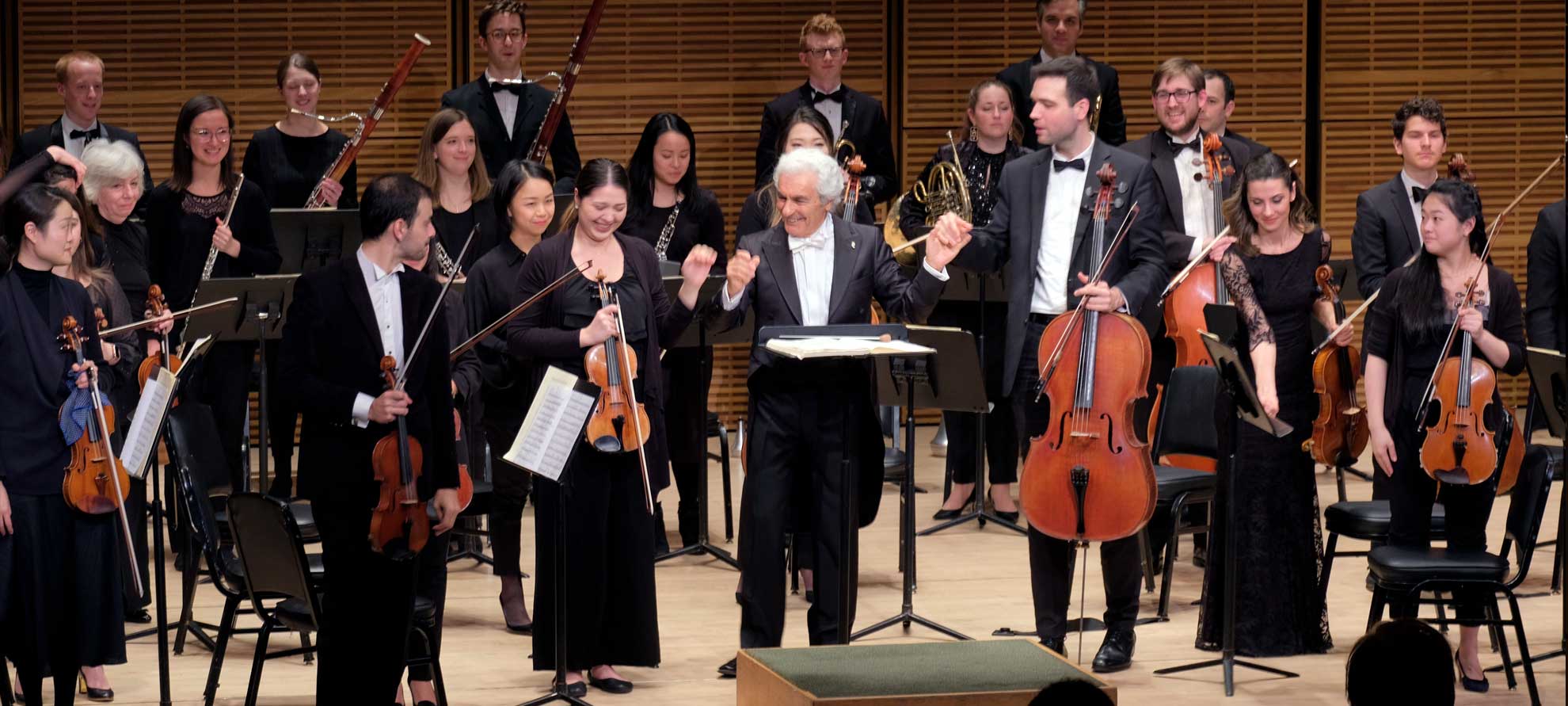 Meet the People of the

Sinfonietta
---
Gurer Aykal, Conductor
Musicians of the Sinfonietta
with
Emre Engin, Concertmaster
Yiğit Karataş, Principal Second Violin
Yangzi Wang, Principal Viola
Emirhan Tunca, Principal Cello
Arda Cabaoğlu, D.M.A., Principal Trumpet
Derin Oge, piano
Artists in Residence
Mahir Cetiz , D.M.A., Composer in Residence
Sinfonietta Staff
Gurer Aykal, Founder, Artistic Director, (Music Director – TAASNY)
Ibrahim Yazici, Founder, Executive Director, (President – TAASNY)
Aysen Darcan, Ph.D., Founder, Executive Director, (Vice President – TAASNY)
New Manhattan Sinfonietta (NMS) is a New York City based orchestra founded by world renowned Turkish maestro Mr. Gürer Aykal. NMS will proudly perform concerts at a caliber that will match the taste and sophistication of the audiences in and out of New York. Mr. Aykal has enthusiastically established the New Manhattan Sinfonietta as his final orchestra project. NMS was originally conceived in 2017 by Gurer Aykal in collaboration with Turkish American Arts Society of New York (TAASNY). NMS will seek to promote Turkish culture through the performance of Turkish inspired compositions by Turkish musicians. Although not exclusive to Turks, the orchestra is intended to give a home to Turkish musicians who wish to perform regularly in the United States.
NMS made its world premiere on November 29th, 2018 at the prestigious Carnegie Hall's Stern Auditorium. "A Call for World Peace" concert was conducted by Mr. Seiji Mukaiyama, a Japanese composer and conductor, and honored the exemplary friendship between Turkey and Japan.
On February 8th, 2020 NMS is making its debut with Gurer Aykal in Carnegie Hall. At "Anatolian Inspirations" concert, Maestro Gurer Aykal will be conducting his orchestra for the first time with a repertoire that includes "Esintiler" (Inspirations) by a highly regarded Turkish composer, Ferit Tuzun, along with Mozart and Beethoven.
NMS has the vision to continue to perform multiple concerts every year that includes the works of Turkish composers; thereby introducing them to the audiences around the world. Adopting the motto "diversity is the ultimate wealth in arts", NMS aims at bringing exceptionally talented musicians and composers around the world on stage.
We would like to extend our heartfelt gratitude to our supporters for their generous donations. Donations come in various forms and amounts and we deeply appreciate every single donor for their kind effort in making New Manhattan Sinfonietta become a strong presence in the world of classical music.
Presidency of Turks Abroad and Related Communities (YTB)
Turkish American Arts Society of New York (TAASNY)
Consulate-General of the Republic of Turkey in New York
Turkish Airlines (THY)
Fatma & Eugene Ugur Sayan- Softheon
Gurer Aykal Family
Ali Beba, Ph.D.
Ali Riza Dogan- Alibaba Terrace Restaurant
Av. Mehmet Baysan
Ayhan Ozmekik- Musiad USA
Besiktas USA
Billur & Hasan Hakipek- Bremen House Inc.
Fenerbahce USA
Gokhan Dogan - Artevi
Hakki Akdeniz- Sampiyon Pizza
Hulya Aydogan- Artisan La Petite
Kurt Uzbay- Stifel Financial
Le Pain Quotidien
NH Collection Hotels
Orhan Yegen- Lokanta Restaurant
Ramazan Bizel- Turkon America Inc.
Tohan Hazinedaroglu- Otto Tile & Mosaic